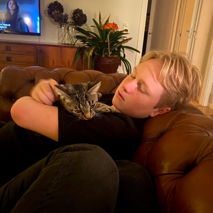 Harry Ullström 2007-2022
Donate
Created By:

FamiljenochVänner till Harry Ullström

Collecting for:
Harry Ullström 2007-2022
Älskade Harry. (in English below)
Denna insamling görs för att hedra och minnas Harry Ullström (2007-2022). Din gåva kommer bidra till att rädda liv och stödja efterlevande, genom SPES (Riksförbundet för Suicidprevention och Efterlevandestöd).

Harry var en varm, klok, rolig, och alldeles särskilt kompetent person. Men framför allt hade han en unik förmåga att verkligen se andra människor, knyta an till dem, sträcka ut en hand, och ge sitt stöd till dem som behövde det mest. Han var den där personen vi alla vill vara, den som står upp för andra utan att räkna på vad det kommer kosta.

Samhället vi skapat är bitvis brutalt. Vi måste försöka förändra det till ett ställe där barn kan överleva, och blomstra. Världen kommer bli bättre om vi alla försöker vara lite mer som Harry.

Han var älskad. Så älskad av så många. Och han bar ljus till alla i sin närhet, sin familj och oräkneliga vänner.

Å Harrys familjs vägnar, hans föräldrar Elin Ahldén och Anders Ullström, och hans bror Konrad: Tack.
--- in English --

This fund is to honor and remember Harry Ullström (2007-2022). Your donation will help save lives and give crucial support to survivors, through SPES (Swedish Association for Suicide Prevention and Survivor Support) in their work.

Harry was a warm, wise, funny, and extraordinarily competent person. But more than anything, he had a unique ability to see others, connect with them, reach out, and support those in need. He was that person we all aspire to be, the one who stands up for others without considering the cost.

This world we have created can be brutal, and we must all try to make it a place where more children can survive and thrive. The world will get better if we all try to be a little more like Harry.

He was loved. So beloved by so many. And he was a light to those around him, his family and countless friends.

On behalf of Harry's parents Elin Ahldén and Anders Ullström, and his brother Konrad: Thank you.


Philippa Knight

donated

500 kr

Anonymous User

donated

300 kr

Anonymous User

donated

2,800 kr

Martin S

donated

500 kr

En sån fruktansvärd sorg.

Anonymous User

donated

20 kr

Eva Lindahl

donated

1,000 kr

Zaliia Gindullina

donated

300 kr

I don't know neither Harry or his family, but I was heartbroken this keeps happening. I hope this tiny contribution brings us closer to the world where less people have to go too soon.

Elisabet Wimark

donated

100 kr

Anonymous User

donated

440 kr

Anonymous User

donated

150 kr

Anonymous User

donated

500 kr

Anonymous User

donated

300 kr

Sara Luthander

donated

300 kr

Lisa Blom

donated

300 kr

Anonymous User

donated

300 kr

Anonymous User

donated

100 kr

Annie Håkansson

donated

300 kr

Martina K

donated

100 kr

Läste DN och berördes djupt, barn måste få vara barn, på sitt sätt - alltid.

Anonymous User

donated

200 kr

Läste minnesord i DN o blev djupt berörd

Anonymous User

donated

100 kr

GunInger Edlund Kercoff

donated

200 kr

Jessica Johansson

donated

100 kr

Anonymous User

donated

100 kr

Anders Fridborg

donated

100 kr